Tarahumara
The Tarahumara are an indigenous group from northern Mexico. The universe in Mulaka is based on this group, the area in which they live, and their mythology.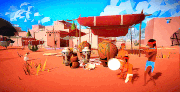 The player character, Sukurúame, is a Tarahumara shaman.
The various creatures in the game are based off Tarahumara mythology.
Many locations and puzzles in the game are based on the real-life area where the Tarahumara inhabit.
| | | |
| --- | --- | --- |
| " | Mulaka is being designed hand in hand with renowned anthropologists and Tarahumara leaders to capture the true essence of the culture in the game. We have unearthed old books, crumbling texts and forgotten diaries and gotten the most playable elements, as well as the coolest myths and stories and recorded authentic Rarámuri dialogue. We have as well the assistance and guidance of our friend and collaborator Enrique Servín, poet and cultural expert, winner of the "Andrés Henestrosa" International Prize of Myth, Story and Legend. Also, Mulaka is backed economically and culturally by ICHICULT (Chihuahua Institute of Culture) and the YOREME fund. Everything has been done so you can experience the power and adventurous history of this culture.[1] | " |
The Tarahumara are a real-world indigenous group that lives in northern Mexico in the sierras of Chihuahua. They are known for being skilled long-distance runners.